Quick Teacher Appreciation Candy Jar Gift
With a family full of teachers, I know how important it is to show appreciation for all they do every day. I'm a big fan of giving consumable gifts, since no storage is needed. To go along with a container of favorite candy or other treat, I created some printable candy labels, along with a tag and card, to show a teacher some appreciation this year.
Use a 3/4″ circle punch for circles that fit Hershey Kisses, as I did here, or a 1″ punch for larger candies. A simple glue dot or double sided tape will attach the circles to the candy. I used a small, wide mouth Ball jar as my container, but you could use whatever you have handy.
I added a circle of red cardstock to fit the lid of my jar, and a yellow dotted ribbon to match the printable tag and candy labels threaded through the hole-punched tag and tied in a pretty bow.
Our school gives students an idea of a small, consumable gift to bring to class each day during Teacher Appreciation Week. One day may be a single flower, so the teacher has a bouquet for the classroom all week, another day may be a handwritten note of gratitude. I know the teachers in my family love to get a note of thanks from a student, so I added a mini-card to the printable sheet so your child can add a note as well.
Download the free Teacher Appreciation Candy Jar Gift printables by clicking the image below.
Thanks for stopping by! Be sure to check out the rest of the Craft Lightning Teacher Appreciation series hosted by The Country Chic Cottage and 30 Minute Crafts, and show those fantastic teachers some love.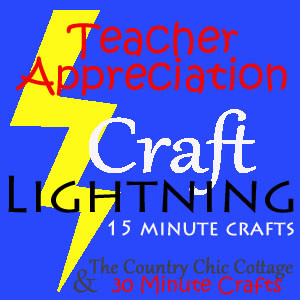 Until next time…
Carla